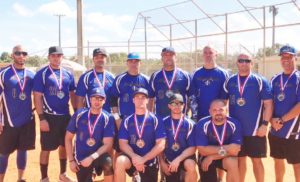 If you are wishing to play in the golf Scramble – only 1 team slots remain
We are currently looking for bowlers to fill team slots and to partner with doubles bowlers.
Registration for large team sports is now closed.  Updates such as brackets, start times, and venue locations will be updated on the sports pages.
Registration is still open for many of the individual and doubles sports.  Registration also remains open for individuals wishing to join teams.
Tennis page has been updated for dates of June 11, 12 and 13.
Racquetball updated for June 15.
Crossfit, 5/10K, swim meet, and the track meet  will not be held this year, but will return for the 2019 Tampa Games
Accommodations:.  We strongly urge all participants that are needing accommodations to utilize one of the host hotels.  If we would like to keep the entry fees low, the host cities utilize the host hotel accommodations to base what field and facility use charges will be.
Host hotel info is posted.  Our group rate can only be found utilizing the  800# –  See the accommodations page.  If you call the hotel direct or the Central Reservations number, they may say it is sold out – That does not include our block –  We have rooms left in the block.  Again this year, unless notified, all participants must check in at the host hotel prior to participating.  Rooms are going fast, and our block will sell out – get your rooms early!!!    The host hotel is centrally located to all venues, and we would appreciate everyone utilizing the host hotel as they help offset many costs of running this event.
The events pages are updated daily.  Event locations for some events may not be posted until just prior to the event so that there is no unfair advantage to the local participants.  The venue locations, start times, participant info, and brackets will be posted on these events pages.
Team Sports:  If you are part of a team, be sure you join that team prior to June 1st.  Rosters and ID Cards are printed based on these team databases.  Changes and updates to team rosters can be accomplished until the first day of the event.  Official team rosters are due to the coordinator at the start of your event.
As in the past, Unless otherwise posted on the events page, participants must pick up their pre-paid credentials at the host hotel prior to participating.  Events that do not need participants to go to the hotel are any of the shooting events, mountain biking, inshore fishing and equestrian.  These will be handled on site due to the long distance from the host hotel in Lee County
The 2017 results are being updated.  If you find an error, please let the games office know so that a correction can be made.
Do you have any pictures from the 2017 Palm Beach County event? – Wanna share ? – We are looking for pictures that we can add to social media, marketing and the event web pages. – please send them to info@firstrespondersports.org
We look forward to seeing everyone in 2018 in Lee County – till then ….    Be Safe
If you have any questions, please feel free to email or phone the office.